Welcome to St. Joachim School!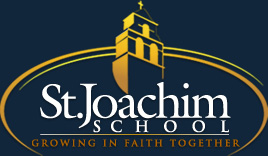 Founded by the Benedictine sisters in 1958, St. Joachim School has provided a quality Catholic Education for children in Hayward and San Lorenzo. We are a pre-kindergarten through eighth grade school committed to excellence in 21st century Catholic education. As you visit our web site and learn about St. Joachim School there are three things I call to your attention.
Accessibility is key to any Catholic school.  We want to make sure that St. Joachim School is open to all who desire a high quality Catholic education regardless of your station in life. One of our most enduring strengths is our great diversity. We are home to many different cultures, families from varying socio-economic positions and to those who do not share the Catholic faith. All are welcome! As a Catholic school we celebrate our catholicity with all who enter our doors.
Affordability may be a stumbling block for those choosing a non-public school. At St. Joachim School we are determined to open our doors to all who desire a Catholic education for their child. For those who qualify, there are several sources of tuition assistance available. First, the school itself makes grants available to qualifying families through our Tuition Assistance Program, known as TAP. Through our Annual Appeal we raise approximately $60,000 each year to fund this program and many families benefit from it. There are also two main outside sources of assistance as well, the BASIC Fund available to all new families and FACE, Family Aid for Catholic Education made available by the Oakland Diocese. All tuition assistance programs are needs based and a fully 20% of our families qualify for some level of assistance.
Finally, and most importantly, we are an excellent academic institution committed to 21st century education. We believe that our students must be prepared for the world in which they live and that is why we create a collaborative, technology rich curriculum that challenges our students to reach beyond their potential. As of the 2009-2010 school year we have fully implemented our one to one laptop program in the middle school grades. Each student in grades 6, 7, and 8 is given a computer for use at school AND at home. Linking the educational process to the home is critical to our success. We have an additional 60 computers available to students in grades k-5 and we will soon be a school that will have one computer available to every two students in those grades.
Please feel free to contact me for a personal tour of the school. I would love to meet you and tell you much more about St. Joachim School!
Armond Seishas ('71)
Principal
21250 Hesperian Blvd. Hayward, CA 94541
Call:510-783-3177
Fax: 510-783-2161