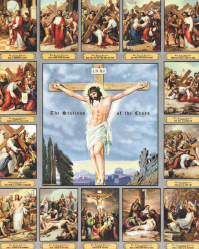 Join your fellow Parishioners for our last week of Stations of the Cross before Holy
Week We start at 7:00 PM with the STATIONS OF THE CROSS followed by as simple
Soup Supper in the hall afterwards. The following groups will be in charge of the Soup
Supper, They will bring soup, set up and clean up the hall. The first group listed is the
lead group and the group responsible to make sure everything is set up & cleaned up afterwards:
March 23rd ~~ Legion of Mary (English and Spanish), Lector (English &
Spanish) Extraordinary Ministers of Holy Communion (English and Spanish), St.
Vincent de Paul Society, 12:15 PM Sunday Mass
Thanks to all who participate!!